Parrot is a French company based in Paris and founded in 1994 by Jean-Pierre Talvard and Henri Seydoux. It designs, develops and sells consumer and high-tech products, mainly for smartphones and tablets. Since 2017, they have focused on drones.
Summary
1 History
1.1 Establishment and first products
1.2 Launch and development of drone design
2 shareholders
3 Activity
4 Visual identity
5 Lobbying activities
5.1 With the National Assembly
5.2 With the institutions of the European Union
History
Establishment and first products
In 1994, Parrot was created by Jean-Pierre Talvard and Henri Seydoux. It develops voice recognition technologies. In 1999, Parrot joined Bluetooth SIG. In 2000, Parrot launched the first wireless Bluetooth hands-free kit.
In 2002, Jean-Pierre Talvard sold his shares and Christine de Tourvel replaced him, who then sold them in 2009.
In 2005, the first Parrot car radio and a plug-and-play Minikit set were released.
In 2006, Parrot was listed on Euronext's Eurolist market.
Launch and development of drone design
Starting in 2010, Parrot entered the drone market with the marketing of the Parrot AR.Drone. It is the first flying toy controlled by a smartphone. The desire to develop in this activity sector was confirmed in the following years with the acquisition in 2011 of the two French companies Varioptic (activity: digital lens) and DiBcom (activity: Multi standard digital radio and television). In 2012, Parrot acquired 57% of Swiss drone manufacturer senseFly. In 2015, Parrot invested in drone start-ups: Airinov (drones for agriculture) Micasense (sensors for agricultural drones), EOS Innovation (robot for inspection) and Iconem (drones for archeology). In the same year, Parrot split its main business into two very different subsidiaries: Parrot Drones and Parrot Automotive (en).
In 2016, the Parrot Disco Drone, the brand's first drone with rotating wings, was released.
In 2016, launching subsidiary Parrot Air Support with a range of drone services for professionals in real estate, construction and infrastructure.
In January 2017, Parrot announced the elimination of 290 of the company's 840 jobs following a drop in sales. In 2017, the subsidiary Parrot Automotive came under the control of the French group Faurecia (which will have acquired everything by 2022) and all other connected objects (hi-fi headphones, etc.) Are permanently abandoned. The company now focuses only on drones, mainly for professional applications.
Shareholders
List effective April 19, 2019.
Henri Seydoux, 45.7%
Moneta Asset Management 10.6%
Bpi France Participations 5.14%
Parrot SA 2.03%
Oddo BHF Asset Management 1.22%
Keren Finance 1.16%
ETF Managers Group 0.97%
Dimensional fund advisors 0.69%
Lyxor International Asset Management 0.39%
Norges Bank Investment Management 0.33%
Activity
Parrot specializes in technologies related to speech recognition and signal processing for on-board and mobile applications, applied to aspects of car telephony: chipsets, algorithms, Bluetooth and application software.
Parrot designs its own integrated signal processing circuits (set of circuits that include the DSP).
Visual Identity
Parrot meaning "parrot" in English, the company's first logo represented the bird. The current logo now has the brand name in a simple, black font.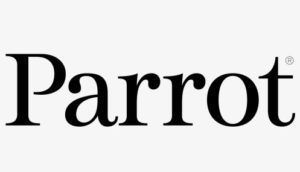 Lobbying activities
To the National Assembly
Parrot Drones is registered as an interest representative to the National Assembly. In this regard, the company states that in 2015, the annual costs associated with the direct activities of advocacy in parliament are between 50,000 and 100,000 euros.
With the institutions of the European Union
Parrot Drones has been registered in the transparency register of interest representatives with the European Commission since 2016. In 2016, it declared 1 full-time employee for this activity and costs between 100,000 and 200,000 euros.
Article by
When an overly adventurous pilot loses control of his drone, he can rely on the so-called "come home" function. The drone then automatically returns to its starting point. For Parrot, which suddenly faced weakness in 2016, forcing it to reduce its workforce (257 job losses out of a total of 854 employees), returning to the fold is more complicated. But it seems to be on the right track.
In fact, according to figures released by the company on March 15, losses were significantly reduced in one year, from €137 million in 2016 to €38 million last year. Parrot, the only major manufacturer of drones in Europe, does not plan to return to where it started, however. The company, founded in 1994, took advantage of 2017 to make several changes, of course.
Year of resilience, 2017 - "a delicate but salutary period," according to Henri Seydoux, president and founder of the company - was marked by a 31% decrease in operating expenses, but also by a double refocusing. Parrot now presents itself as a pure player in the field of drones. The automotive business (hands-free kits, connected devices) has come under the control of Faurecia, which will have bought it outright by 2022, and production of hi-fi headsets and other connected objects has been permanently discontinued. This withdrawal weighed on sales (151 million euros), which fell 9%.
The big challenge now is to develop professional applications for drones. These represent 29% of sales, up 36%. The most promising fields are those of inspection of structures and production of digital maps intended for large companies (SNCF, EDF, Vinci, etc.), But also mining activities or the building and construction sector. real estate.
Agriculture offers fewer promising outlets than expected, but security markets in the broad sense (especially equipment for businesses, fire and police), still marginal, are growing strongly.
Shift of focus
The company now markets professional solutions that integrate aerial data capture and processing on behalf of customers. The subsidiaries Parrot acquired during the boom - senseFly (professional mapping), Airinov (agriculture), Pix4D (3D data processing) - are also helping to shift the group's center of gravity.
The Bebop2. Parrot
Last year, Parrot did the big thing by favoring "selective sales channels" and by updating its range of leisure drones, whose sales fell 7%, on margins. This specialty (78 million euros) represents 51% of sales and the general public market continues to grow, but is insanely dominated by China's DJI ($2.5 billion sales, i.e. 2 billion euros) which has captured almost three-quarters of the world market.
Parrot, which admits that it represents only about 20% of global sales in its segment, has had to stop its innovation projects. As for the mini-drones category, of which French has made a specialty, it has not kept its promises and its sustainability has been compromised.
Despite these setbacks, Parrot has no intention of abandoning the consumer drones it pioneered when it launched the AR drone in 2010. These operations are less profitable than professional operations, which generate a 70% gross margin, but they offer economies of scale and allow technological innovations to be incorporated more quickly. A new consumer drone, presumably more advanced and more expensive than the Bebop series launched four years ago, will be launched this year.
Parrot, which carried out a €300 million capital increase at the end of 2015 (the largest transaction carried out in France that year) still has a net cash position of €115 million. This, according to its leaders, should allow it to continue investing to transform the group without being obsessed with short-term accounting balances.